As Cardinals linchpins Adam Wainwright and Yadier Molina march inexorably toward the all-time record for starts made by one major league battery, Paul Goldschmidt marches to … well, we don't exactly know yet.
Wainwright and Molina celebrated their 314th start, 10 shy of the Mickey Lolich-Bill Freehan record set with Detroit, with Wainwright blanking the San Diego Padres on two hits and fanning 10 in seven innings Tuesday night at Busch Stadium. That Wainwright would stymie the Padres here should be no surprise. He is 6-0 with a 1.64 earned run average against the Padres at Busch and hasn't given up a home run here to San Diego in 65 2/3 innings.
Goldschmidt bumped up to his hitting streak to 22 games with a third-inning double that knocked in the first Cardinals run before he scored another on a sacrifice fly.
There was one flaw in this masterpiece. Giovanny Gallegos surrendered a two-run, game-tying homer to Trent Grisham in the eighth. But all still was golden for the Cardinals. After an intentional walk to Goldschmidt in the 10th, "ghost runner" Tommy Edman stole third with one out and Albert Pujols, on a 1-2 pitch, delivered his second sacrifice fly of the night for a 3-2 Cardinals victory.
Goldschmidt still had a hand in this one by not following Edman on what could have been a double steal. That might have meant an intentional walk for Pujols to get to Lars Nootbaar, who had failed in the eighth inning to put his team ahead, but who also threw out the potential go-ahead run from left field in the top of the 10th inning.
The Cardinals had had a chance to execute a similar double steal in the late innings of a recent game but hadn't gambled on it. But this time Edman did.
"I felt (if he was) on second you need a hit to score me," said Edman. "If I'm on third you only need a sac fly and obviously that's what happened, so it looks really good."
"It's a good play," said manager Oliver Marmol. "You don't have to be 80 percent there because there's a runner behind him. I trust 'Eddie' there, for sure."
Goldschmidt, who hasn't been thrown out stealing in years, didn't finish out the play, perhaps figuring that if he stole the bag, then Pujols would be walked intentionally to get to Nootbaar with the bases loaded.
Marmol said, "I'll answer what I would do. I would (walk Pujols intentionally). I'm glad (Goldschmidt) didn't go."
Pujols, who has 15 walk-off RBIs as a Cardinal, noted that he is the all-time leader in double plays grounded into (by a wide margin) and that's probably what the Padres were thinking in letting him hit.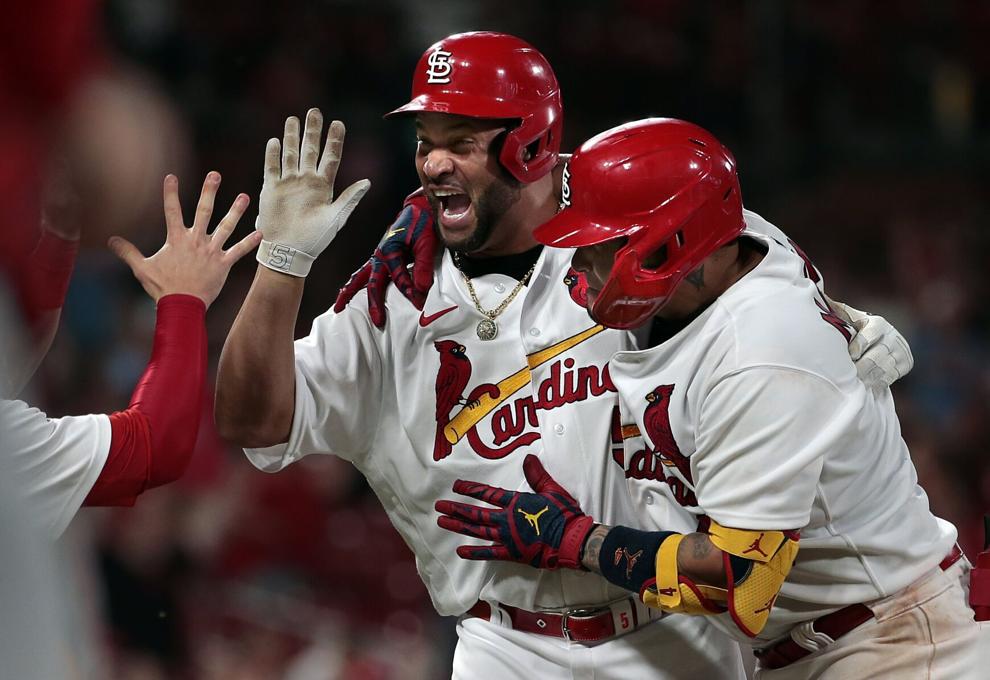 "That big play from (Nootbaar) gave us a boost, gave an opportunity," Pujols said. "There was a pretty good chance that with the middle of the lineup that we were going to come through and get that win."
Wainwright said, "I think we all wanted to see Albert walk this off. That was a big-time play. And he's a big-time player."
After Brendan Donovan coaxed a walk to open the third, Edman struck out but Goldschmidt, who had 33 runs batted in for May, doubled into the right-center-field gap with Donovan sprinting home from first.
Goldschmidt went to third on a Matt Snell wild pitch and, after Arenado walked, a Pujols sacrifice fly delivered Goldschmidt with the second run.
Wainwright retired 14 men in in succession at one point as he threw 115 pitches, four of them called third-strike fastballs, which he said he couldn't remember doing.
"Way too many (pitches)," said Wainwright. "We shouldn't brag about that."
Wainwright had the 13th double-digit strikeout game of his career, tying him with Steve Carlton for third on the Cardinals' list. Chris Carpenter is second at 14. Bob Gibson is first at 74 although Wainwright is the first in Cardinals history to fan 10 at age 40 or over.
"That was an absolute pitching tutorial," Marmol said. "What he did was unbelievable."
Wainwright admitted, "I had very good command tonight. That's the first time this year I've commanded everything. About time, huh? I made some big adjustments between this start and the last. (But) I'm not telling you anything."
Nootbaar called it "vintage 'Waino.' But it's not really 'vintage Waino' because he does it all the time."
Goldschmidt's double was his 23rd extra-base hit in May, breaking a tie in that month with Pujols and Stan Musial. He is the first Cardinal to have 32 or more RBIs in a month since Pujols had 35 in June in 2009.
Gallegos, who threw 25 pitches in Monday's win, was tagged for a double by Jorge Alfaro over the head of right fielder Donovan before Grisham cracked his third homer of the season in the eighth.
Arenado and Pujols singled with two out in the ninth against 2021 Cardinal Luis Garcia. Nolan Gorman, hitting .387, was on the bench with lower-back stiffness. So Marmol stayed with late-inning replacement Nootbaar, even over veteran Corey Dickerson, and Nootbaar grounded out on a 3-2 pitch, sending the game tied to the ninth.
"I wanted to see what 'Noot' could do," said Marmol.
Ryan Helsley, working on back-to-back days for the first time this season, walked the leadoff hitter on four pitches in the ninth and then allowed two deep fly-ball outs before retiring Robinson Cano on a bouncer to first baseman Goldschmidt.
Drew VerHagen relieved in the 10th for the Cardinals, freezing the "ghost runner" at second base, with shortstop Edmundo Sosa contributing a running catch in short left center and, more significantly, Nootbaar throwing out pinch runner Jose Azocar at home for the final out of the inning as Azocar tried to score on Jurickson Profar's single.
"We're playing at a depth that we feel like, if there's a ground ball at us, we can get that guy at the plate," Nootbaar said.
VerHagen has scored three victories in the past 10 days.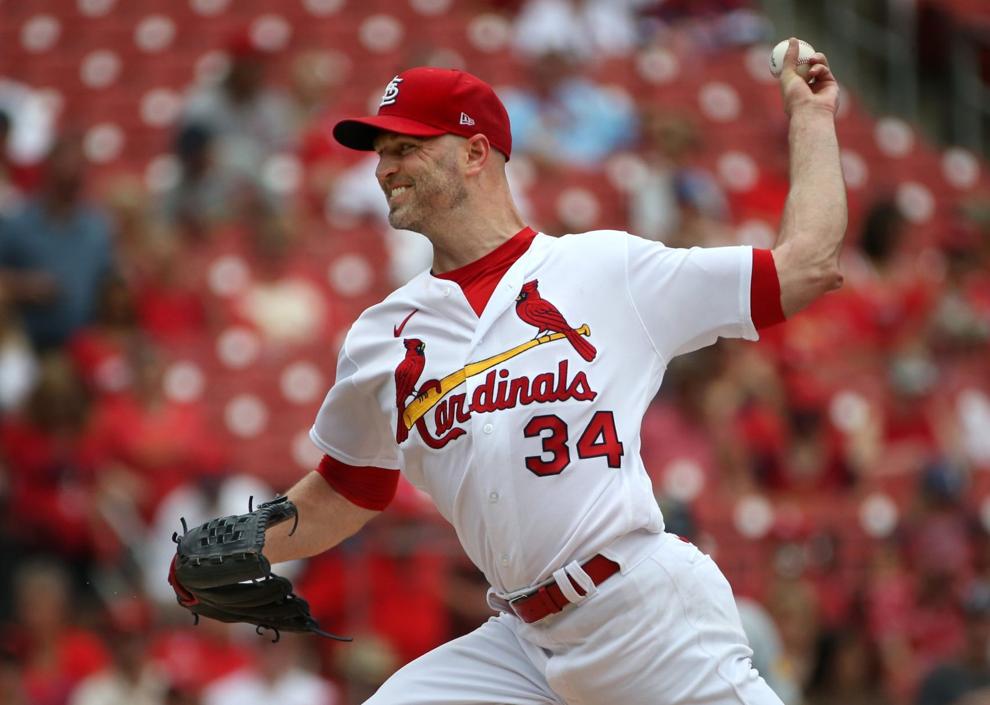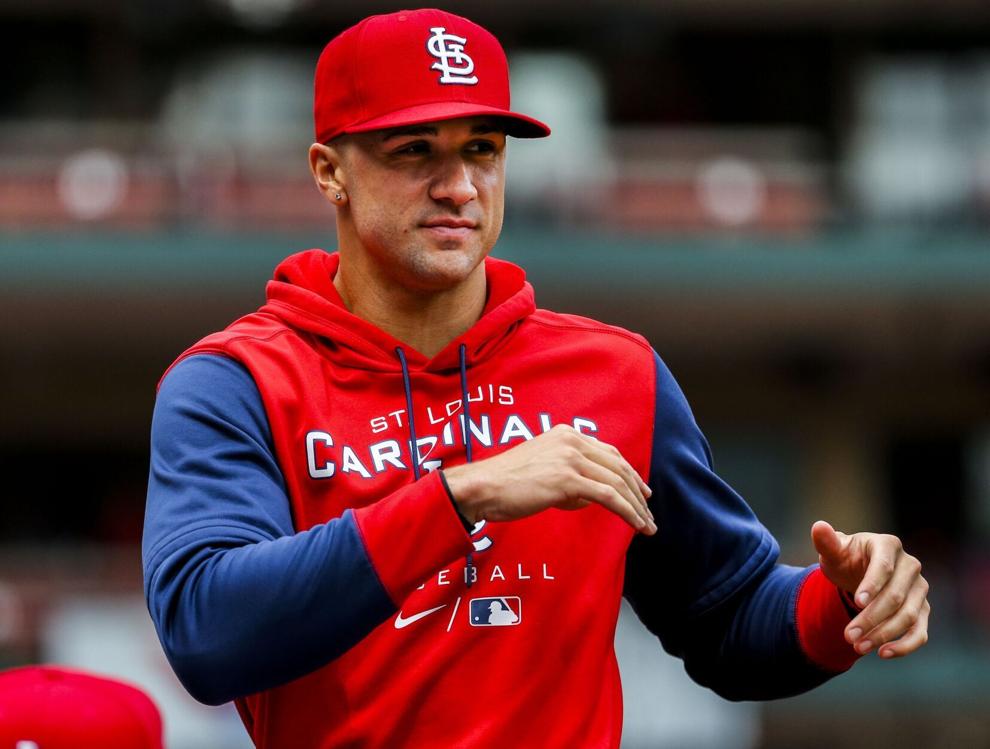 Photos: Cardinals beat Padres 3-2 in the 10th
#Pujols #rescues #Cardinals #10th #win #Goldschmidt #Wainwright #shine